LINES OF RESEARCH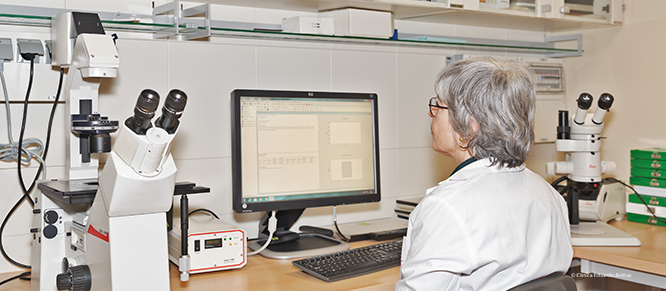 Dr. Anitua is undertaking broad and intense clinical research with the objective of offering our patients the best option to reward the benefits of the treatments offered at his clinic. It is worth mentioning that this clinical progress is confirmed with basic research on three levels: molecular, cellular and tissue.
The lines of research undertaken in the dental area can be grouped into four areas:
Biological solutions for biological problems: The focus in this field is that of applying the regenerative and therapeutic potential of plasma rich in growth factors to improve and accelerate tissue regeneration in the dental area. For example, regenerating the defect that remains after removing a tooth and improving the healing of a wound in the oral mucous membranes.
Improving the efficiency of the osseointegration of dental implants: In this field Dr. Anitua has optimised the surface of the implants to achieve better interaction with the plasma rich in growth factors and the bone tissue.
Dr. Anitua has also optimised the design of dental implants for optimal binding in the bone. An example is the development of short and extra-short implants to avoid the need for major surgery in the patients whose bone volume does not allow the placement of conventional implants.
Innovation and optimisation of bone regeneration techniques: In this area Dr. Anitua uses biological drilling to fit the implant in the bone, which minimises damage to the bone tissue and enables bone particles to be obtained for use when regenerating the bone. Other advances are the development of expanders and transitional implants that expand the existing alveolar bone and make it possible to insert the implant.
Improving and innovating in the design of the prosthetic components to be able to carry out a suitable oral restoration. The ample clinical experience of Dr. Anitua has enabled him to improve the use of fixed prostheses in oral restoration. Some examples are the use of CAD/CAM and the development of bio-pillars, which helps the gums adapt better and increases their vascularisation.